...

Top-Level Aggregate / Host Utilization Box Overview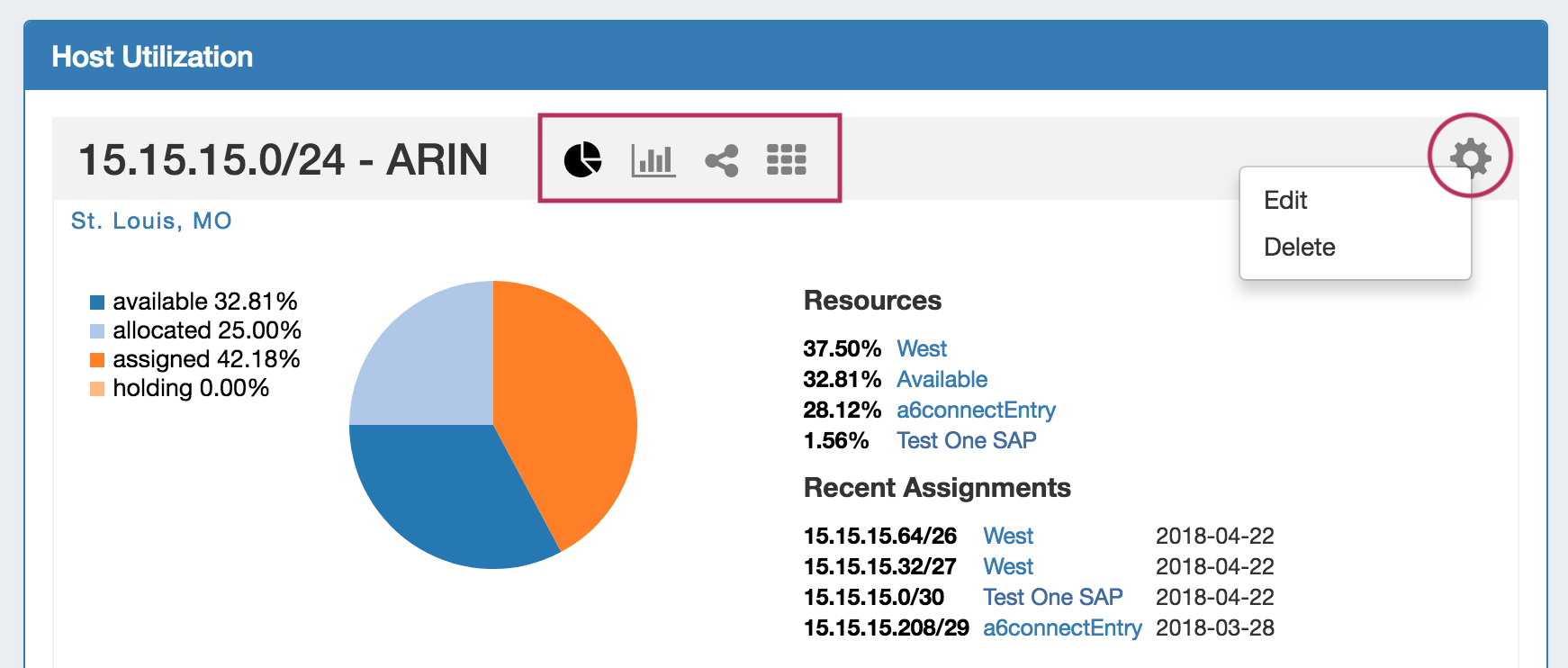 Image Removed

Image Added
The Top-Level Aggregate Host Utilization box provides detailed information on that aggregate, including:
CIDR: Single-click to IPAM Manage for the aggregate
RIR information: displays the aggregate's RIR, as set at creation (1918, ARIN, RIPE, LACNIC, AfriNIC, APNIC)
Aggregate Chart Views: Four Aggregate chart views are available, - Pie, Bar, Tree, and Grid view. Switch between each chart by clicking on the respective icons in the Aggregate header (marked above). 
Aggregate Actions (Gear Icon):

Edit

Manage Aggregate

:

 

Opens IPAM Manage for the aggregate. See 

Working with IP Blocks

 for information on working in IPAM Manage. Clicking on the Block CIDR in the header also opens the IPAM Manage page.

Delete

: Deletes the Aggregate (provides a warning).

Enable / Disable Sparse Allocation (IPv6 only): Enable or disable Sparse Allocation for an IPv6 aggregate. Enabling will automatically generate a Numbering Authority Sparse Allocate Domain for use with the aggregate. 
Sparse Allocate (IPv6 only): Appears only when Sparse Allocation is enabled for an IPv6 aggregate. Opens a menu to select or create a resource to assign a block to, using the sparse allocate algorithm to disperse the assignment(s) throughout the aggregate. See: Working with IP Aggregates

Region(s): Displays the primary region(s) associated with the aggregate, either at aggregate creation or from regions associated with blocks under that aggregate. Clicking on the region link for an aggregate will open IPAM Manage for the aggregate, filtered to view blocks associated with that region.
Utilization: Utilization displayed as both a pie chart and detailed percentages. Utilization statuses include:

Available: A status of "Available" indicates the block is free and able to immediately be assigned or allocated to a resource.
Allocated: Allocated blocks have been assigned to an overarching resource, but have subassignments enabled and may have smaller blocks assigned out of them to other Resources, such as customers or DHCP Pools. 
Assigned: A status of "Assigned" indicates that the block has been assigned to a Resource, with no subassignment capability, and is unavailable.
Holding: Blocks in "Holding" have recently been unassigned, and are held for a set duration in the IPAM Holding Tank, unless otherwise overridden, reassigned, or reclaimed from Holding.

Resources: The top five Resources assigned under that aggregate with the most assigned block space.
Recent Assignments: The five most recent block assignments under that aggregate, with the CIDR, assigned resource link, and assignment date.
...