Skip to end of metadata
Go to start of metadata
The DHCP Tab
ProVision's DHCP Tab combines server management, group organization, and pool management under one tab.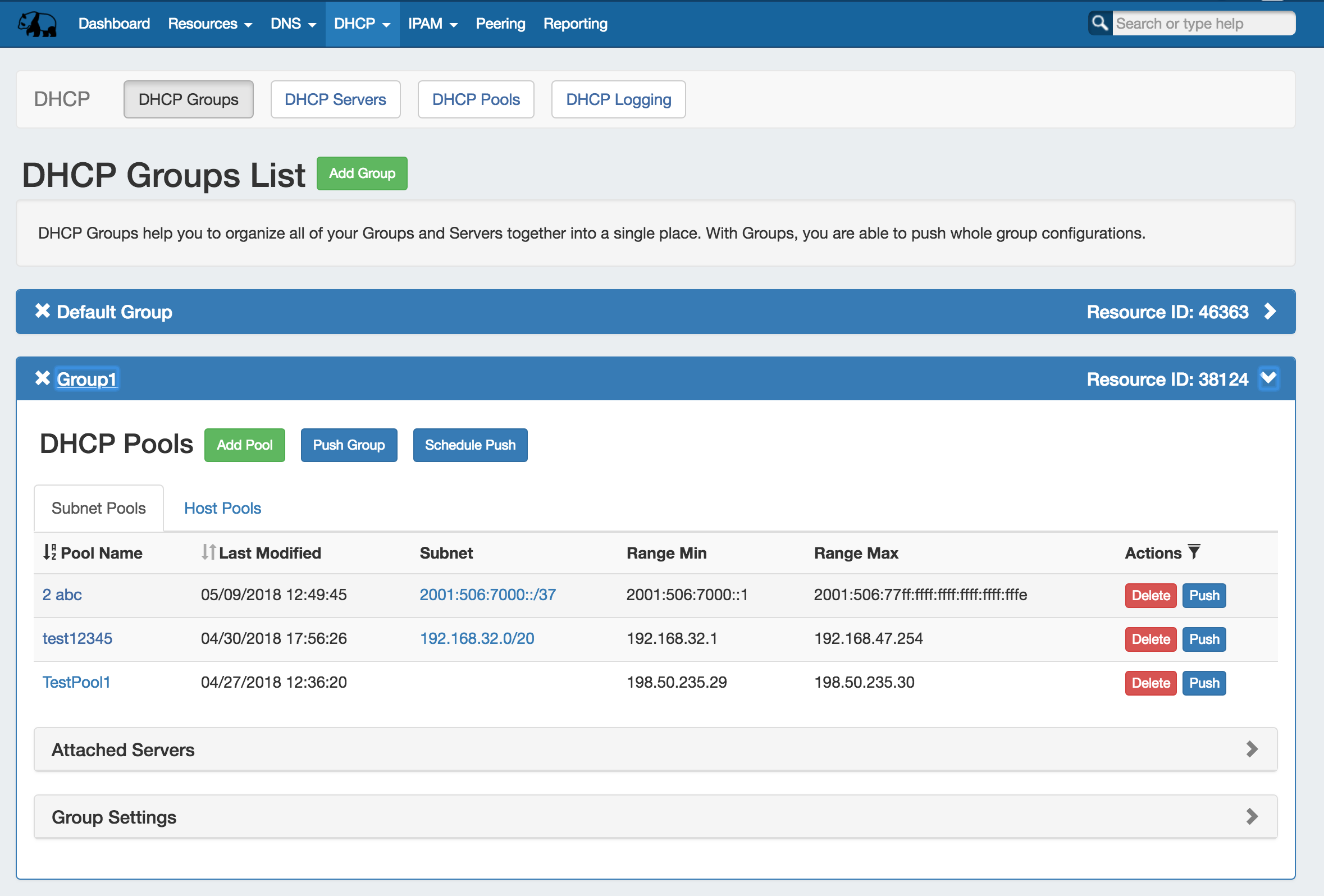 The DHCP tab contains four sub-tabs: DHCP Groups,  DHCP Servers, DHCP Pools, and DCHP Logging.
The DHCP Groups tab is where DHCP servers and pools are managed as a part of DHCP Groups. The DHCP tab DHCP Groups List allows you to create, view, and manage groups of DHCP servers and pools. Using groups, you can configure and push selected combinations of pools at one time.
The DHCP Servers tab is only accessible to Admin users, and contains functions for adding, updating, and managing DHCP servers as well as scheduling server tasks.  For Admin-level DHCP tasks, see Working with DHCP Servers. 
The DHCP Pools tab lists all the pools created in ProVision able to be viewed by the user, in the same format as on the DHCP Groups page, but without the Group organization. The Pool List allows you to view, add, delete, and push individual DHCP Host and Subnet Pools. 
The DHCP Logging tab provides a link to ProVision's logging system, where you can filter to view DHCP-only logs.
Permissions
DHCP Management integrates with ProVision's resource and permissions hierarchy, as well as the IP Management system.  Individual DHCP servers can be assigned via Resource Permissions  to different internal user groups, to be managed by only the appropriate parties.
Additional Information
See the following sections for detail on working within the DHCP Tab:
For more detail on advanced DHCP topics and the DHCP API, see API Module - DHCP.